JTICI
ISSN : 2321-5437
Recognized by UGC – 45416 (Till 1st March 2018)
Journal of Tribal Intellectual Collective India
Critical Articulations of Lived and Shared Experience from Within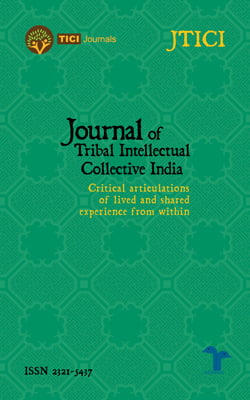 The Journal of Tribal Intellectual Collective India engages with Indigenous Peoples life world. Its primary goals are, to bring to the public academic domain research papers and articles by scholars, activists and practitioners working on Indigenous peoples in India with a definitive focus on Adivasi / Tribal episteme and world view.
The JTICI offers the opportunity for constructive theoretical engagement and critical dialogue in the interest of achieving social justice for Indigenous peoples of India. We propose that through dialogue there exists the possibility of evolving alternative ideas and paradigms about protection, promotion and preservation of Indigenous peoples in India.
The JTICI endeavours to publish empirical, conceptual and theoretical articles that make substantial contributions to the field in all areas of Adivasi and Indigenous Peoples Studies including
| | |
| --- | --- |
| • | Adivasi/Tribal Women |
| • | Adivasi / Tribal Narratives, Phenomena and Life World Studies |
| • | Adivasi and Indigenous peoples Movements and Development |
| • | Adivasis, Tribe, State and Governance |
| • | Adivasi / Tribal Epistemology and Philosophy |
| • | Science of Adivasis and Indigenous Peoples |
| • | Indigenous Peoples and Indigenous Research Methodologies |
| • | Adivasi Knowledge, Culture and Politics |
| • | Rurality, Rural Sociology and Indigenous Peoples |
| • | Adivasis and Urbanization Studies |
| • | Law, State, Democratic Rights and Indigenous Peoples |
| • | Polity, Governance, Public Policy concerning Indigenous Peoples |
| • | United Nations, International Mechanisms and Indigenous Peoples |
Queries if any, maybe addressed to Managing Editor:
Email: editor@ticijournals.org
We publish two issues a year.

We take no processing fee nor charge for publication. We are a collective of Tribal Intellectuals located in Universities interested in knowledge production and inter-epistemic dialogue across realities. Authors submitting articles to us will be given a peer review report if the article is selected for publication. Together with a peer reviewer from the academic community we also send the article to a community member if the article is written about such a community, that is if we feel there is a need to do so. For the final article ready for publication, the author takes full responsibility for the content, data and arguments in the article. The editor, managing editor and the editorial board are not responsible and will not be held liable for the article of an author.